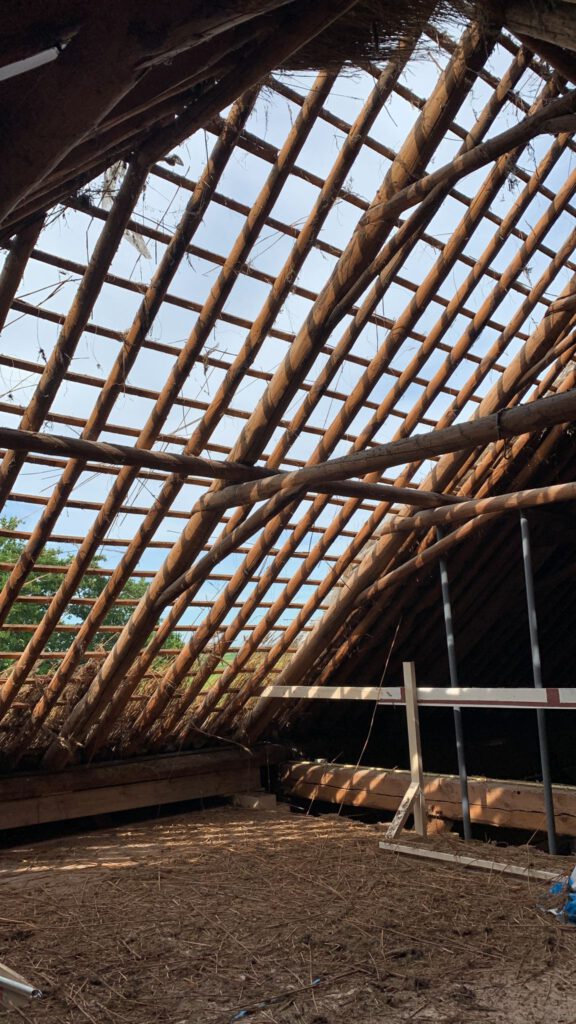 In June, the restoration of the thatched roof of the barn started. The last time the farm had completely new thatch was more than 50 years ago. Such a roof can last quite a long time, but unfortunately it has been poorly maintained in the past 20 years, so that the reed must be completely replaced. This immediately gives the opportunity to install insulation under the reed, whereby the 'juffers' (the vertical tracks) remain in sight. A solution that also makes the fire service happier than the old situation…
In 2020 we have already started researching the various possibilities. In the end we asked Jaldert van der Veen and Bart Meijs, thatchers from Sneek, to take on the job. They use locally harvested reed, have been working for 6 weeks now and are making steady progress. At the moment, the entire site is full of old reeds and piles of fresh reeds. It's a mess (inside and outside), but the hood will be beautiful!
We received a subsidy from the Provinsje Fryslân for the restoration of the roof. One of the conditions was that an intern would participate through the ROP (restoration training projects). Of course we arranged that: Kevin (in the photo) has supported Bart and Jaldert with all kinds of odd jobs in recent weeks and has become acquainted with the craft of thatching.